Dr. Connie Ho Yan Yung - Clinical Psychologist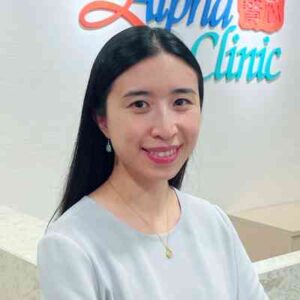 Languages: English, Cantonese, Mandarin
Registered Clinical Psychologist, Hong Kong Psychological Society
Member of Register of Clinical Psychologist, Department of Health, HKSAR
Chartered Psychologist, British Psychological Society
PhD in Psychology, The Chinese University of Hong Kong
Master of Social Science (Clinical Psychology), The Chinese University of Hong Kong
Bachelor of Social Science (First Class Honours), The Chinese University of Hong Kong
Qualified Mindfulness Teacher (MBSR, MBCT, Mindful Parenting)
Registered EMDR Therapists of Hong Kong (EMDRHK)
Email:

[email protected]
Individual Profile
I am Connie, a registered clinical psychologist with extensive clinical experience in public hospitals, Department of Health and non-governmental organizations. I am specialized in working with clients with various emotional distresses such as depression and anxiety, assisting them to transform from traumatic experience in the past or childhood to a flourishing life. I also walked with my clients through different life challenges such as work/ study stress, interpersonal and intimate relationship issues, difficult family dynamic, and critical life changes like divorce or retirement. I am a registered EMDR therapist who is specialized in processing past traumatic experience. In my previous work, I was also devoted to mental wellbeing promotion and mental illness prevention in a territory-wide mental health campaign in Hong Kong.
Beyond my clinical work, I am a guest lecturer at local universities teaching teacher-in-training about the educational strategies and interventions for social emotional learning at schools, as well as how to support students with special educational needs to create an inclusive classroom for diverse learning. I also teach mindfulness and low-intensity cognitive behavioral therapy at universities. I am experienced in delivering talks, trainings, workshops, and webinars on mental health topics and mindfulness for NGOs, schools and private companies. I am also a column writer for local magazine Jessica to promote mindfulness and life transformation.
Personally, I have been practicing mindfulness for almost 10 years. Experiencing its "miracle" on my different life stages, I want to bring it to my therapeutic work. So, I have completed various mindfulness teacher trainings over the years (My second baby even went through my year-long mindfulness teacher training and two meditation retreats in my tummy! What a mindful baby.). I am a qualified mindfulness teacher for several secularized evidence-based mindfulness interventions, including Mindfulness-based Stress Reduction (MBSR), Mindfulness-based Cognitive Therapy (MBCT), Mindful Parenting for adults, as well as Paws b program for 7-11 year olds under the Mindfulness in Schools Project (MiSP) that wide-spread in the UK. I held numerous mindfulness classes throughout the years; it is one of my visions to spread mindfulness in our community. I am also conducting research on mindfulness at university to promote it to the general public.
As a mindfulness teacher, my therapeutic approach is person-centred. I have strong faith in the life transformational power that hidden inside every single individual, even when we are undergoing our darkest times in life—everyone is the expert of his/ her own life. My work is to walk side-by-side with my clients, using my therapeutic techniques and clinical experience to awaken and unleash their internal power to a wholesome and fulfilling direction. I hope that my clients and their beloved ones can lead a flourishing and satisfactory life.
Along the years, I am grateful for the trust my clients placed in me. Lives are all interconnected. We influence each other. In the meantime, we grow together.
Services
Psychotherapy
Connie is experienced in working with people experiencing the following mental health and life challenges:
Mental Health challenges
Depression
Bipolar Affective Disorders
Obsessive-Compulsive Disorder

Generalized Anxiety Disorder
Panic attack/ disorder
Social Phobia
Specific Phobia
Agoraphobia
Health Anxiety

 Post-Traumatic Stress Disorder
Personality Disorders
Eating Disorders
Life challenges
Couple or Marital problems
Parenting
Gender or sexual orientation issues
LIGBT-related issues
Childhood or past traumatic experiences
Study or work stress
Interpersonal difficulties
Social stigma issues
Life adjustment
Grief and bereavement
Anger management issues
Personal growth
Self-esteem/ self-image
Mid-life crises
Life goal/meaning exploration
Self-acceptance and compassion
Assessment
Child, Adolescent and Adult
Intellectual Assessment
Dyslexia
Attention-Deficit/ Hyperactivity Disorder
Autism Spectrum Disorders
Mindfulness Teacher Qualifications and other Professional Trainings
Brown Mindfulness Center, Brown University 

Mindfulness-Based Stress Reduction Foundations Teacher Training
Teacher Advancement Intensive Training

The University of Oxford Mindfulness Centre & HK Center for Mindfulness

Foundational Training in Teaching Mindfulness-Based Cognitive Therapy (M1-4)

The University of Oxford Mindfulness Centre

Mindfulness: Finding Peace in a Frantic World Teacher Training
Mindfulness for Life Teacher Training

University of Amsterdam

Advanced Teacher Training in Mindful Parenting (Certified Mindful Parenting Instructor)

Mindfulness in Schools Project Teach Paws b Teacher Training
Institute of Emotion-Focused Therapy (Asia)

One-year Emotion-focused (Individual) Therapy Professional Training

International Schema Therapy Society Accreditation Training

Schema Therapy – The Models, Methods & Techniques
EMDR and Schema Therapy

The EMDR Association of Hong Kong  EMDR Therapy Basic Training
My therapeutic approaches
In my practice, I adopt up-to-date evidence-based interventions with a person-centered orientation. The therapeutic approaches I usually use include
Mindfulness-based intervention
Schema Therapy
EMDR Therapy
Emotion-Focused Therapy
Cognitive Behavioral Therapy
Acceptance and Commitment Therapy
Compassion-Focused Therapy, etc
Every individual has a unique character that is built from own past history. Even within the same person, the need and aspiration keep evolving over different life stages. Therefore, I work collaboratively with my clients to develop a personalized treatment plan that suits the concern at that particular moment.
Selected Publications
Ho, C. Y. Y. (2023). The mediating role of nonattachment in the relationship between mindfulness and well-being: A longitudinal study. [Doctoral dissertation, The Chinese University of Hong Kong].
Ho, C. Y. Y. (2023). Why do we meditate? Development of the intention for mindfulness meditation scale and latent profile analysis among mindfulness retreat sample. [Doctoral dissertation, The Chinese University of Hong Kong].
Ho, C. Y. Y. (2023). Efficacy of secularized and Buddhist mindfulness meditation on wellbeing, practice and Buddhist-derived concepts and the mechanism of action behind: A mindfulness retreat study. [Doctoral dissertation, The Chinese University of Hong Kong].
Ho, C. Y. Y., Yu, .C. L., & Mak, W. W. (2022). Nonattachment mediates the associations between mindfulness, well-being, and psychological distress: A meta-analytic structural equation modeling approach. Clinical Psychology Review, 102175.
Tsoi, E. W., Mak, W. W., Ho, C. Y. Y., & Yeung, G. T. (2022). A Web-Based Stratified Stepped Care Mental Health Platform (TourHeart): Semistructured Interviews With Stakeholders. JMIR Human Factors, 9(2), e35057.
Cheung, R. Y. M., Ho, C. Y. Y., Lau, E. N. S., Jackman, M. M., & Singh, N. N. (2021, December). Initial efficacy and teachers' attitudes towards mindfulness-based socialemotional learning activities for kindergartens in Hong Kong. Paper presented at The HKERA-APERA International Conference 2021, Hong Kong, China.
Yang, X., Mak, W. W. S., Ho, C. Y. Y., & Chidgey, A. (2017). Self-in-love versus self-in-stigma: implications of relationship quality and love attitudes on self-stigma and mental health among HIV-positive men having sex with men. AIDS care, 29(1), 132-136.
Mak, W. W. S., Ho, C. Y. Y., Wong, V. U. T., Law, R. W., & Chan, R. C. H. (2015). Cultural model of self-stigma among Chinese with substance use problems. Drug and Alcohol Dependence, 155, 83-89.
Ho, C. Y. Y. & Mak, W. W. S. (2013). HIV-related stigma across cultures: Adding family into the equation. In P. Liamputtong (Ed.), Stigma, Discrimination, and Livingwith HIV/AIDS: A Cross-Cultural Perspective. (pp. 53-69). Dordrecht, The Netherlands: Springer.