Mr. Aled Tang - Clinical Psychologist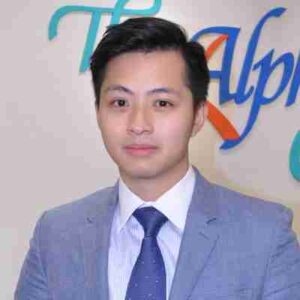 Languages: English, Cantonese, Mandarin
Master of Social Sciences (Clinical Psychology, Distinction), The University of Hong Kong
Master of Social Sciences (Mental Health), The University of Hong Kong
Bachelor of Social Sciences (Psychology), The Chinese University of Hong Kong
Member of Register of Clinical Psychologists accredited by Department of Health
Registered Clinical Psychologist, Hong Kong Psychological Society
Registered EMDR Therapist, EMDRHK
Certified Mindfulness Instructor (MYmind)
Clinical Supervisor (Low-intensity CBT)
Email:

[email protected]
Individual Profile
Aled obtained his Bachelor's Degree in Psychology at The Chinese University of Hong Kong and he was awarded scholarship for an exchange programme at the University of Cambridge. Wishing to serve people with emotional disturbance and to promote mental wellness in the community, Aled further pursued his study of Master of Social Sciences (Mental Health) and Master of Social Sciences (Clinical Psychology) at The University of Hong Kong. He is a registered clinical psychologist (Hong Kong Psychological Society) and a member of Register of Clinical Psychologists (HKICP) accredited by Department of Health. Apart from his private practice, he also serves in Non-governmental organization.
Aled provides both assessment and therapy to children, adolescents and adults in his psychological services. By integrating the latest research and clinical expertise, he develops personalized treatment plans tailored to each client. Through close collaboration with his clients, he aims to provide effective interventions and help them achieve their goals of psychological well-being and personal growth. He cherishes the time he spends with clients and is dedicated to offering support, understanding, and professional guidance to facilitate positive transformations and a more fulfilling life.
Aled's passion lies in promoting mental health and personal growth. He actively engages with the media, sharing his expertise through interviews and contributing articles to newspapers like Mingpao and AM730. Moreover, he's been invited to provide trainings and deliver talks in diverse settings, including businesses, schools, and NGOs. He also shares psychology and mental health tips on social media platform. Aled's ultimate goal is to make mental health support accessible to all and empower individuals on their journey of self-discovery and well-being.
Professional training received:
Schema Therapy Certified Training Level 1 & 2
Eye Movement Desensitization and Reprocessing (EMDR) Therapy Basic Training Level 1 & 2
Advanced mindfulness teacher training (MYmind) by University of Amsterdam
Dialectical Behavioral Therapy Basic Training
Clinical Supervisor course of Low-intensity Cognitive Behavioral Therapy
Psychological Services:
Psychological assessment for children, adolescents and adults
Intellectual assessment
Dyslexia assessment
Autism spectrum disorders (ASD) assessment
Attention deficit hyperactivity disorder (AD/HD) assessment
Psychological intervention for children, adolescents and adults
Mood and anxiety disorders
Obsessive-compulsive disorder
Trauma related issues
Personality disorders
LGBTQ+ related issues
Parenting
Occupational/ academic stress and adjustment related issues
Professional consultation, training and public education
Consultation/ training: case management, intervention direction and strategy, low-intensity CBT, transdiagnostic treatment approach (Unified Protocol) related, end-of-life training etc.
Public education/ talk: stress reduction, mindfulness, growth mindset, dealing with work stress and improving productivity, elderly mental health, retirement adjustment, parenting workshop, youth mental health program, positive psychology etc.
Therapy approaches:
Cognitive behavioral therapy
Schema therapy
Eye Movement Desensitization and Reprocessing (EMDR) therapy
Dialectical behavioral therapy
Acceptance and commitment therapy
Mindfulness based intervention